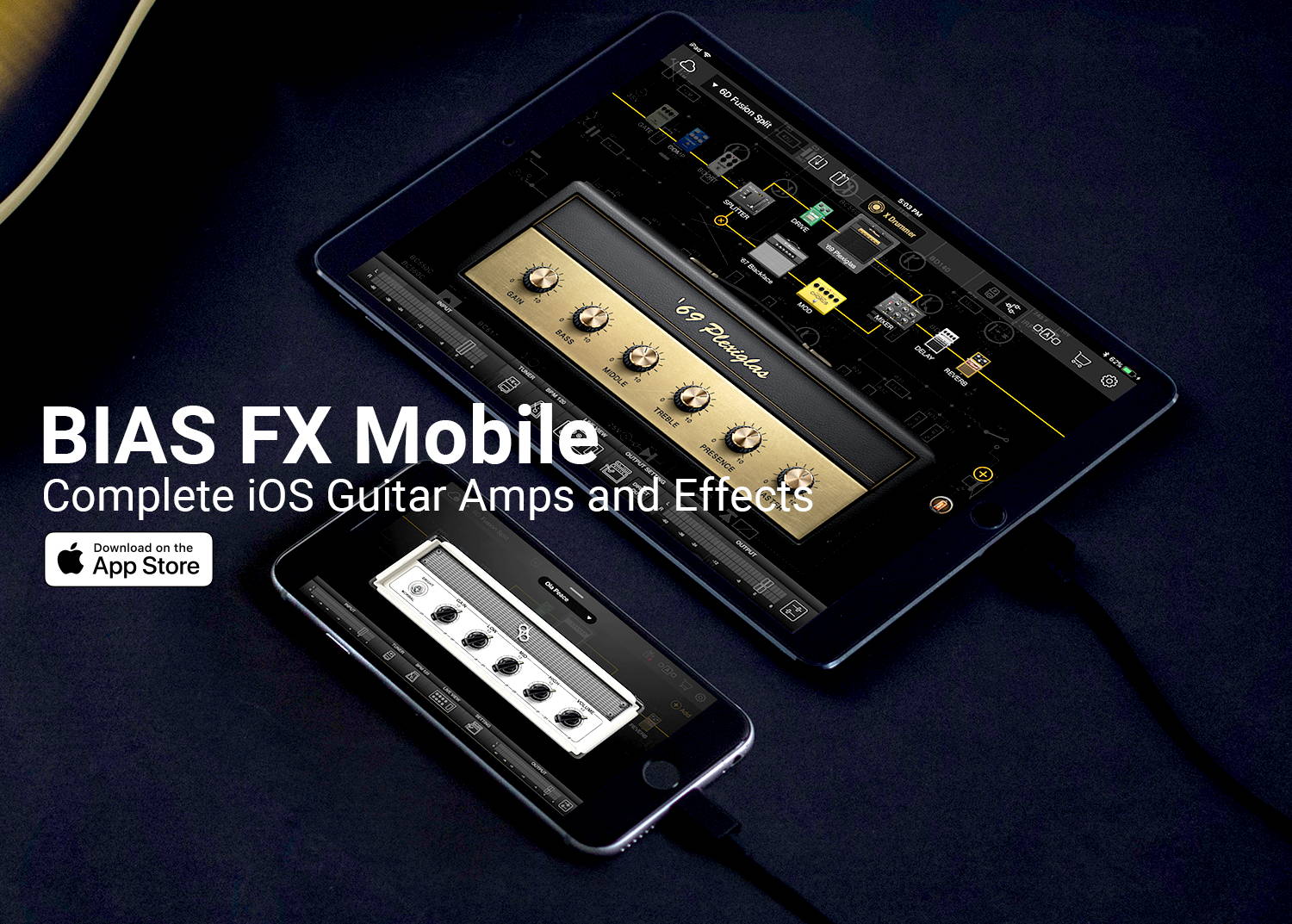 Hundreds of analog-like amps and advanced effects
LiveView turns your iOS device into a performance ready processor
Seamlessly integrated with BIAS AMP 2, open amp models into BIAS FX with a simple tap
Download and share thousands of artists and users presets from ToneCloud®
WORLD-CLASS GUITAR PROCESSOR
BIAS FX Mobile turns your iOS device into an industry-leading guitar amp and effects processor. It gives you an easy to use drag-and-drop interface that includes everything that a guitar player needs for professional tone, with a large collection of analog-sounding amps, guitar pedals and advanced rack effects, on a dual signal chain setup.
POWERFUL BIAS ECOSYSTEM
BIAS has the most advanced and complete amp-and-effects engine in the industry. BIAS FX Mobile works seamlessly with BIAS AMP and BIAS Pedal apps to allow customization of guitar amps and pedals.
With AmpMatch® Technology, BIAS AMP allows you to match any guitar amp, swap tubes, customize preamps, power amps, transformers, tone stacks, with multi-mic capability and open/closed back cabinet options. BIAS Pedal enables you to virtually create your own custom distortion, modulation and delay effects, with full control over the pedal's circuit and topology. You can open any BIAS AMP or BIAS Pedal inside BIAS FX Mobile with one simple tap.
BIAS FX is available for PC/Mac and iOS. For the first time you can create analog and cutting-edge guitar sounds both in the studio for recording on PC/Mac, and on iOS for live performance and practice.
CUTTING EDGE AMP TONE
BIAS FX features the newly improved BIAS AMP 2 tone engine. We worked with artists, engineers and recording studios to ensure our amplifier circuits were authentic and best in class. The result is a new playing experience with realistic touch response and dynamics.
STUNNING EFFECTS
BIAS FX comes with authentic modeling and high-quality effects that make it possible and easy to reproduce a large collection of analog sounds. With newly added rack effects, you can push into new territory to create new sounds that have never been heard before. All effects are designed with an easy-to-use photo-realistic interface that can be dialed in just like the very best analog gear.
TONECLOUD®
Easily create, share or download custom presets on the Positive Grid ToneCloud® where there are thousands of custom tones and presets to choose from. We partner with professional artists, session players and recording engineers to offer an ever-growing and massive number of virtual pedalboards and guitar rigs for BIAS FX.
CONTINUOUS IMPROVEMENT
We take a no-compromise approach with our sound engine, from detailed touch-sensitivity in harmonic emulations to double-precision modulated algorithms in chorus pedals. We strive for the best possible sound quality in everything that we do.
At Positive Grid, we are constantly working on new features and updates to our core technology and redefining what is possible with today's processing power in guitar amp and effects emulation.
BIAS FX Mobile
Complete iOS Guitar Amps and Effects