The Hardest Guitar Songs of All Time
By Brad Tolinski
There are guitar songs that are challenging to play, like "Sweet Child O' Mine," "Stairway to Heaven" or "Master of Puppets." And songs that are even harder to master like "Eruption," "Highway Star" and "Sultans of Swing."
But there's a yet another level of guitar songs that are head and shoulders above those classics; tunes so difficult to play on the guitar that simply trying to perform the first eight bars will make the most seasoned player weep and shake their fists at the heavens in rage.
These are what we call The Impossible Dreams. The Fuggedaboutits. They are the hardest songs to play on the guitar. We've chosen some of our favorite dingers, for your pleasure. And for those out there that claim they can play any of these, we'll demand proof before eating our hats.
Of course, a great footswitch is essential for learning songs that are these challenging. Seamlessly designed for the Spark amp and app and allowing you to harness Spark's lineup of effects, Spark Control is a true plug-and-play, wireless experience. With an expanding library of innovative features and functions, such as the ability to switch presets and assign custom scenarios, Spark Control goes beyond traditional foot controllers. Find out more about Spark Control here.
The Hardest Guitar Songs of All Time
Jason Becker
"Perpetual Burn"

When guitar great Jason Becker released Perpetual Burn in 1988, it was pretty much universally agreed upon to be one of the most technically thrilling guitar albums in rock history.
The title track off of this album is particularly gnarly. So gnarly, in fact, that when metal virtuoso Jeff Loomis paid tribute to Becker's brilliance by covering it, it almost broke the internet (see video). People could literally not believe another human could replicate it. One of the hardest guitar songs to play? You bet your bippy.
As the man who nearly single-handedly invented the art of the "stunt guitar," you can't have a list of the hardest songs to play on guitar without a Steve Vai jam in the mix. We chose "Juice" because it's such a well-crafted little boogie that almost allows you to ignore that it's one of his hardest guitar songs to play. Rhythmically, there's a lot to finesse, and then you'd have to be able to casually toss off licks like the tapping passage that flies by at lightning speed at the 2:28 mark. Playing fast is one thing, but doing it while grooving your ass off is another.
Jerry Reed & Chet Atkins
"Jerry's Breakdown"

Electric guitarists always seem to take the spotlight when it comes to hard songs, but this ripper from Country guitar legends Jerry Reed and Chet Atkins is enough to silence the acoustic skeptics. Calling this one of the hardest acoustic guitar songs would be an injustice to Mr. Reed - it's one of the hardest guitar songs ever, period.
The Dillinger Escape Plan
"43% Burnt"

New Jersey weirdos The Dillinger Escape Plan started making a name for themselves in the late '90s as pioneers of the 'mathcore' subgenre of punk - a fitting name as learning their songs feels more like calculus homework than anything else. Guitarist Ben Weinman's influences range from traditional metal and punk to free jazz and other avant-garde styles of music, which explains why most of the band's music sound like the bastard child of Frank Zappa and Black Flag.
The studio version of this song is impressive enough, but anyone who has ever been to a Dillinger show knows that the real challenge is performing this track live. With a stage show that included pyrotechnics, constant strobe lights and even band members hurling equipment (or themselves) into the crowd, it's incredible that Ben can even concentrate amongst the chaos.
We included these guys in our list of the scariest bands ever due to their onstage shenanigans, but trying to learn 43% Burnt can scare even the most talented of players.
To give an idea of how challenging King Crimson's "Fracture" is to play, an entire book was written to detail a guitarist's 22-year journey to master it.
The 11-minute instrumental, which hails from Crimson's 1974 album Starless and Bible Black, is famous for a three-minute section where guitarist Robert Fripp begins a non stop barrage of notes called a "moto perpetuo"—an Italian term of "perpetual motion."
Think you can play it? We urge you to give it a shot... and report back to us in two decades when you've finally nailed it.
DragonForce
"Through the Fire and Flames"

"Through the Fire and Flames" has the distinction of not only being one of the hardest songs to play on the guitar, but also one of the hardest songs to play on PlayStation. Featuring the rapid twin guitars of Herman Li and Sam Totman, the speed metal anthem has appeared in several guitar-themed video games, including Guitar Hero III: Legends of Rock, Guitar Hero Smash Hits, Guitar Hero Live, Rocksmith 2014, GuitarFreaks and Rock Band 3. Level up!
Jimi Hendrix
"Machine Gun"

Difficult doesn't always mean fast. The variety of sounds, textures and moods Hendrix coaxes out of his Fender Stratocaster on "Machine Gun" is almost impossible for any mere mortal to duplicate. Take the four minute mark for example, where Jimi says more with one extended scream of a note than most can say with 10,000. Can you play that note? Perhaps. But can you give it that much meaning, emotion and sound like you're splitting the world in two. Not likely.
Guthrie Govan is the definition of a guitarist who can't be pinned down to one style, as evident by his recording credits with classic rockers Asia, Drum n' Bass/Breakbeat group The Young Punx, and even legendary film composer Hans Zimmer.
As a solo artist, his songs are tasteful, stylish and memorable, despite the fact that he still manages to pack a billion preposterous notes in each one. "Waves" is just one of dozens of extraordinary finger-twisters in Govan's catalog. It's just too damned bad they're all so hard to play, because we'd love to be able to perform them all.
Michael Jackson ft. Eddie Van Halen
"Beat It"

Every time we go down the YouTube rabbit hole, it seems like we find yet another 7-year-old playing a note-perfect rendition of the Eddie Van Halen classic, "Eruption." Not so with the devilishly tricky solo heard on Michael Jackson classic, "Beat It."
Unlike "Eruption," the break in "Beat It" is far more sophisticated rhythmically and harmonically. Weird and unpredictable in an avant-garde John Coltrane way, Ed's solo is one of the strangest splatter of notes to ever defile a gigantic pop single.
While other musicians have come close to replicating King Edward's finest moment, we've yet to hear anyone completely nail it. One thing you can say for sure— it's not child's play.
Allan Holdsworth
"Devil Take the Hindmost"

Speaking of Eddie Van Halen, it's well-known that there weren't too many guitarists in the cosmos that could make him sweat. Allan Holdsworth, however, was in that rare club. Van Halen proclaimed Holdsworth "the best in my book," and "so damned good that I can't cop anything."
Ed had a point—almost everything the progressive British wizard played was shockingly complex. "Devil Take the Hindmost" is not Holdsworth's most complicated song, but it is perhaps his most famous and deserves a place among the hardest guitar songs ever.
Oh. My. God. We give up. Every song Tosin Abasi plays is "the hardest guitar song to play on the guitar." We tried to play some of this once and almost "CAFO'd" in our shorts.
John Petrucci
"Damage Control"

Dream Theater guitarist John Petrucci is generally acknowledged as one of rock's most technically gifted players. So naturally, the fine folks over at Guitar World had to ask him to name his most demanding songs. Without missing a beat, he replied "Damage Control," adding that "the entire time I play this song live, I feel like I'm just doing damage control to get through it." If it's that hard for Petrucci to play, then it's gotta be one of the hardest guitar songs ever.
Paul Gilbert
"Technical Difficulties"

Like "Damage Control," the name of this Paul Gilbert tune says it all. For the last 30 years, Gilbert has been celebrated as one of the most accomplished musicians to pick up the guitar. So when he calls a song "Technical Difficulties," you know he's not messing around. Listen. Laugh. Cry.
Final Thoughts: The Hardest Guitar Songs of All Time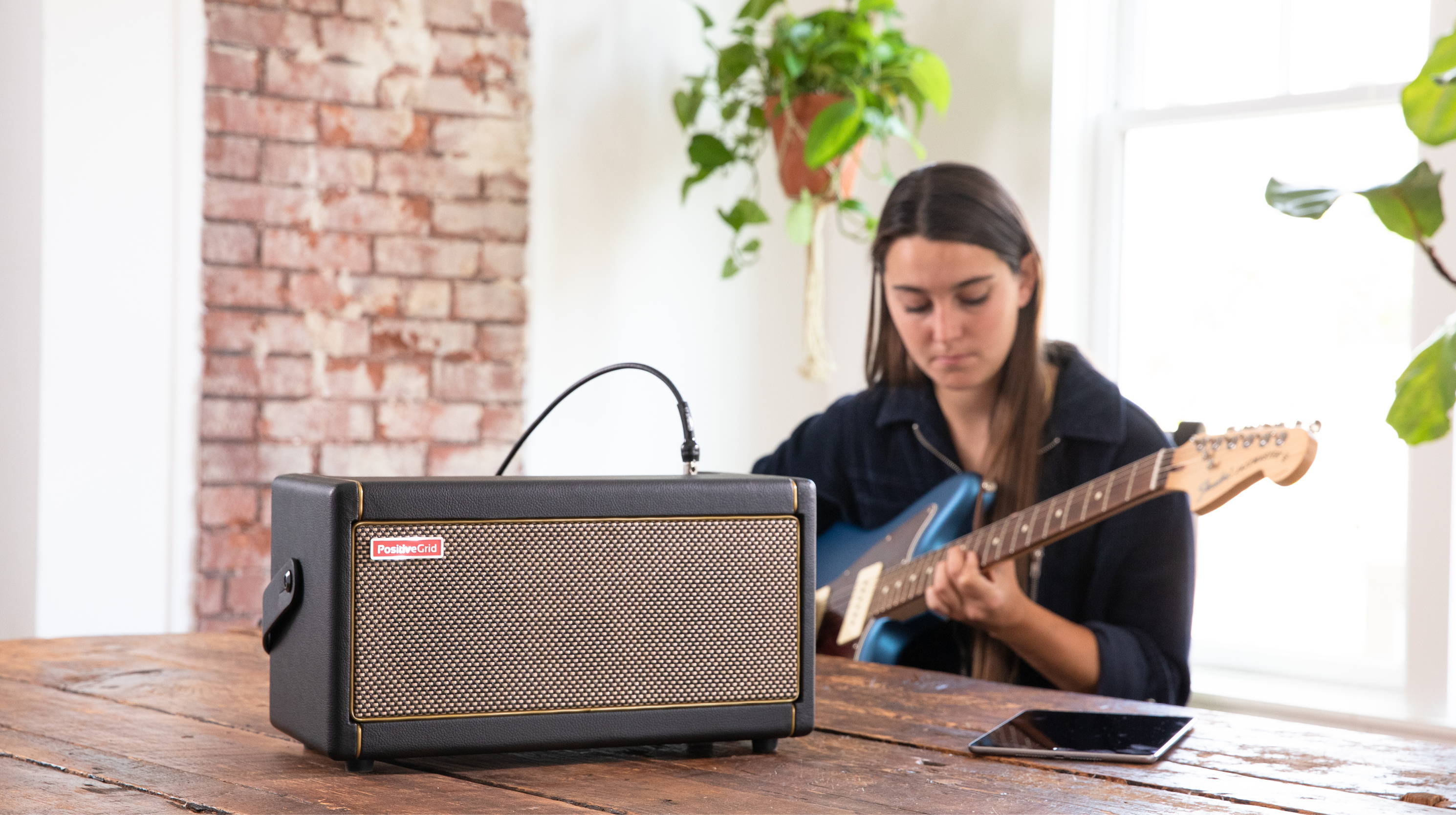 Want to begin the almighty task of conquering these finger-busting songs? A good place to start would be picking up a practice amp that lets you dial into the sounds of every guitarist on this list. A powerhouse 40 Watt combo, Spark is a smart amp and app that jams along with you using Intelligent Technology, with backing tracks available for any style you play. Including over 10,000 tones (and counting!) on the Positive Grid ToneCloud, you'll never run out of inspiration. Plus, you can use Spark as your USB audio interface for easy home recording and track your ideas with the included PreSonus Studio One Prime recording software. Find out more here.
---
Brad Tolinski is perhaps best known for his work as the editor-in-chief of Guitar World magazine for 25 years. He is also the author of Light and Shade: Conversations with Jimmy Page (Crown); and Play It Loud: An Epic History of the Style, Sound and Revolution of the Electric Guitar (Doubleday), which was the basis for a 2019 guitar-focused exhibition at the Metropolitan Museum of Art in New York City. Most recently he edited the 50th Anniversary Commemorative Issue of CREEM magazine, and his latest book Eruption: Conversations with Eddie Van Halen (Hachette) will be coming out in October 2021.