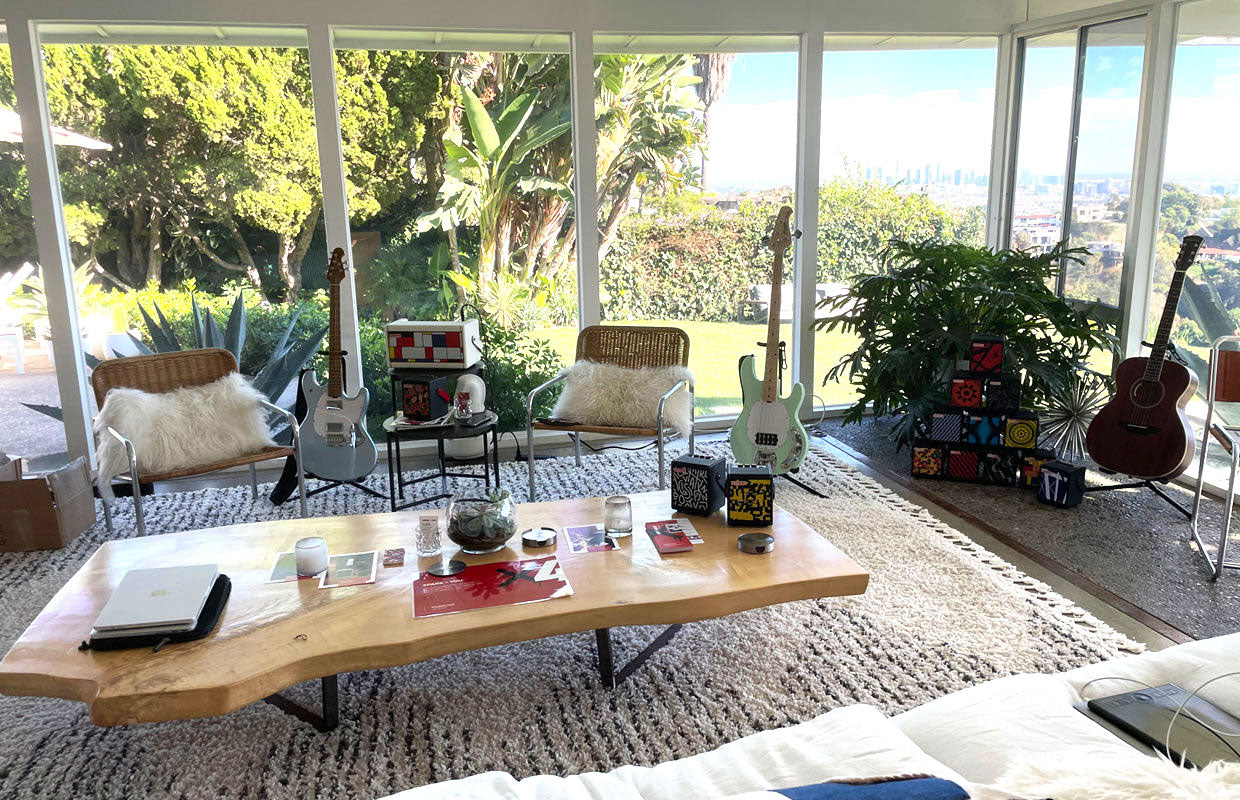 October 28, 2022By Ian Becker 0 Comment
Picture a beautifully designed mid century home, jam-packed with guitars and gear. Perched in the hills of Runyon Canyon, overlooking the twinkling lights of downtown Los Angeles. Filled with creatives chatting about music over food and wine. Culminating with an intimate, unforgettable cliff-side concert. Sound too good to be true? Maybe. But Positive Grid's Jam Lab experience was very much a real thing.

A gathering of some of L.A.'s most creative musicians, this VIP invite-only event treated attendees to interactive guitar experiences, a sneak preview of our Spark x You personalized amp project, and even a private performance from recording artist MILCK. The goal of Jam Lab was simple: to create a memorable experience for artists to meet and connect – with guitar and music creation as the common uniter. 
Walking in the front door of this creative dwelling, guests were treated to tasty bites and a glass of Maccia Wine or Liquid Death sparkling water, before jumping into various rooms of the home – each its own uniquely curated music experience. One room focused on our Spark smart guitar amps, where guests dialed in tones and jammed together on Spark 40 and Spark MINIs.
Another room was devoted to our award-winning BIAS FX 2 amps and effects software and RIFF audio interface, with a highlight on OMNYSS – the just-released, sonically disruptive gear collection. Guitarists took turns experimenting with the 3 amps and 6 pedal effects included with OMNYSS, while working on riffs and exploring epic sonic soundscapes of their own.
The living room was converted into a Spark x You guitar amp customizer station, as guests chose from colors, patterns and more to personalize an amp that reflected their own unique style. (They even got to take home a personalized Spark MINI!)
No matter where you looked, every corner of Jam Lab was an inspirational creative nook, with amps and guitars begging to be played. Even the bathroom included a custom Spark MINI amp to match the room's cool decor.

To cap off the night, MILCK took the stage with guitarist Melissa Dougherty – both with custom designed Spark amps – to perform a killer set that included MILCK's newest song, "Animal." The audience took in the music relaxing on blankets and chairs on the lawn, while the sparkling city lights panorama added to the magic. Even Jupiter came out to witness the evening. 
Special thanks to our friends Ernie Ball, Orangewood Guitars, Liquid Death, Dawson's Hot Sauce, Chris Hau and Byroe Skin Care for supporting Jam Lab.
SPARK X YOU
Personalized Spark amps are here. Add your band logo. Create your own design from the bottom up. Upload a photo. Whatever you choose, your Spark 40 or Spark MINI grille will be precisely printed in vivid color with only you in mind - a true part of your guitar identity. Get more information about Spark 40 personalized grilles here, and Spark MINI personalized grilles here.

OMNYSS
Welcome to the future of tone. OMNYSS is a true sonic landscape and deep exploration of guitar texture, built from the ground up to be ominously heavy and outright otherworldly. Go beyond heavy with 3 all-new guitar amplifiers and 6 pedal effects crafted for absolute sonic disruption. Powered by our award-winning BIAS FX 2 amps & effects software. Find out more.

BIAS FX 2
Want access to famous classic and modern amplifiers and effects, right at your fingertips? BIAS FX 2 guitar software provides a fully customizable virtual electric guitar, bass or acoustic guitar rig for Mac, PC or iOS. Use it as a plugin or a standalone guitar effects processing app and inject new tones and creativity into your playing, recording, practicing, and jamming. Find out more.

RIFF
Supercharge your home rig with RIFF – a plug & play audio interface built for guitarists, by guitarists for iOS & Desktop. Transforming your computer or mobile device into a fully loaded dream guitar rig, RIFF lets you take full advantage of our award-winning BIAS FX 2 amp & effects software. It's everything you need for playing, recording, and practicing guitar. Find out more.