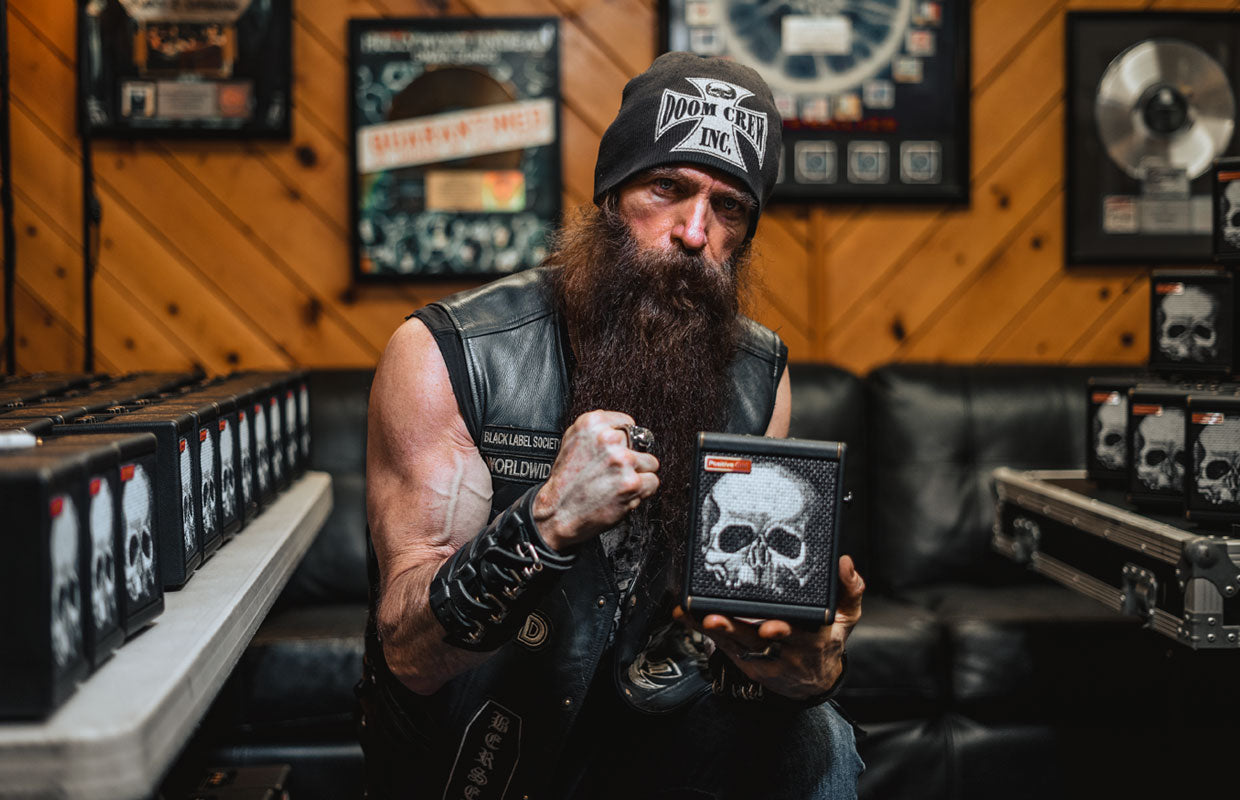 February 15, 2023By Tom Gilbert 0 Comment
What's it like to come face to face with a true guitar titan and heavy metal legend? Turns out, it's about as fun as you'd expect.

By now you should be acquainted with the Spark MINI Zakk Wylde Edition, or Spark MINI O' Doom as we like to call it – our tribute to the mighty one himself. This limited edition amp (only 100 made!) features a custom Zakk Wylde/Black Label Society "Skully" grille, and each one is hand signed and numbered by Mr. Wylde. 5 downloadable custom presets that emulate Zakk's most iconic tones are also included. You can sign up for your chance to purchase one here.

Luckily for us, getting these Spark MINI's signed required a real life meeting with Zakk, which we were more than happy to arrange. Waking up bright and early, we made our way to Mates in North Hollywood, an infamous rehearsal space and go-to jam spot for some real rock and roll heavy hitters. (Slash's rig was being wheeled into the studio next door as we arrived. So yeah…heavy hitters indeed.)

Zakk's gear gets rolled into the rehearsal studio. 
We were greeted by Talena Rose, Zakk's awesome tour manager, as well as other crew members, and shown to a production office adjacent to the live room that would be our home for the day. Lined with countless record plaques and rock 'n' roll momentos, the space was loaded with 100 brand new custom Spark MINI's, ready to be signed.

After a few tedious hours of unboxing, staging the amps, and snapping some photos, we were ready to roll. The man of the hour arrived shortly after.

The stage is set and ready for Zakk.
In typical Wylde style, Zakk rolled in sporting a BLS hoodie, beanie and his signature combat boots. He even brought along an unfinished body blank of one of his new Wylde Audio guitar models (and yes, it's sick). Everyone got acquainted, and Zakk checked out the MINI's. He was enthusiastic about how the Skully grilles turned out, and excitedly explained to his bandmates why MINI is such a rad little amp.

"Holy shit, these things are tiny," he said. "But they're loud as hell! I've had one on tour with me over the last couple weeks, and it hasn't left my side." His bandmates immediately demanded we save them a few amps, and it was agreed that Zakk would not be allowed to hoard the handful of MINIs that we had put aside for him. Ha!

Zakk gets to work.
Incredibly enough, we spent the next couple of hours talking tone and guitar history with Zakk, while he walked us through his current BLS/Pantera live rig. (For those wondering: 2 custom Wylde Audio 100w heads, 12+ Wylde Audio 4x12 cabinets, a very clean pedalboard loaded with some of his favorite MXR/Dunlop pedals, and a slew of custom Wylde Audio guitars. Dialed!)

Once the guitar nerd-out was complete, it was time for Zakk to finish signing, and he proceeded to leave his autograph and a number on every single of the 100 amps. Zakk chatted about guitar, his favorite players, and we were even treated to some infamous Ozzy tour stories. (Sorry, we'd be in trouble if we revealed any of those.)

100 custom Spark MINI's, hand-signed and numbered. 
It was getting time for Zakk to jet – Black Label Society was ready to kickoff a rehearsal for the band's upcoming tour with Anthrax. After sticking around to watch the band run through a couple tunes, and with our minds properly blown, we waved bye to Zakk and the crew and headed home. Ears ringing and big smiles all around.

Huge thanks to Zakk Wylde and his team for being part of this badass collaboration. And to the Zakk fans out there – good luck securing your spot to purchase one of these special little amps. They may be tiny, but if they're powerful enough for Zakk, they'll more than get the job done for any guitarist out there. Crank 'em up.

Zakk poses with his Spark MINI O' Doom.
A mind-blowing portable powerhouse, Spark MINI delivers innovative, customizable smart guitar playing to go. With multi-dimensional high-quality sound, a treasure trove of amps and effects, all-new Smart Jam, video creation, and Bluetooth® audio streaming, it's the biggest smallest rig ever.

You've never heard a small amp sound like this. Find out more here.
A closing shot. Zakk's axe awaits battle.