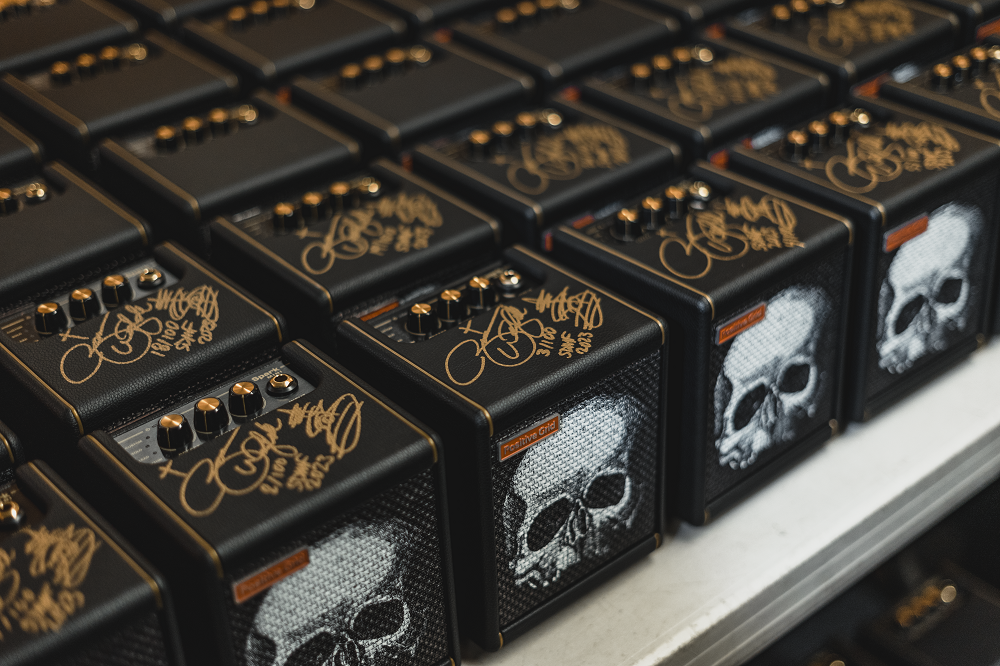 March 06, 2023By Joshua Fernandez 0 Comment
By now you're aware of our recent collab with Zakk Wylde, one of heavy music's most recognizable players, and the Spark MINI Zakk Wylde Edition smart guitar practice amp. Limited to 100 units, each amp is hand-signed and numbered by the man himself, and includes a custom front grille featuring Black Label Society's iconic "Skully" design.
While 100 lucky fans have already been selected to purchase an amp, the good news is that Spark players from all over can still channel their inner-Wylde and take part in this epic collab. Five signature presets curated by Zakk are now available in the Spark ToneCloud, designed to emulate quintessential tones from his famed career. Ready to harness his unmistakable guitar sounds and incorporate them into your own playing? Now you can. Let's take a closer look at each official preset:
Zakk Wylde - No More Tears Rhythm
One of Zakk's go-to's, and arguably his most recognized guitar tone. Modeled after a British EL34 amplifier paired with classic boost/overdrive, and Zakk's infamous chorus, this just gets the job done. Articulate, punchy, midrange focused high gain – it's 100% Wylde. If it works for Ozzy, it works for us.
Zakk Wylde - No More Tears Lead
Based off Zakk's tried-and-true rhythm sound with some additional boost to push leads through the mix, chorus and otherworldly delay. This is the iconic "No More Tears" lead tone that we've all grown to love.
Zakk Wylde - Mama I'm Comin' Home
Even the baddest players love a ballad, and when that first note hits in Ozzy's "Mama I'm Comin' Home," you know it's Zakk. The compressor in front of this glassy clean amplifier helps accentuate the nuances of your playing, and we layered it with the Positive Grid Digital Chorus to emulate the subtle warble of a 12 string guitar. Add our vintage Echotape Delay, and Room Studio A Reverb to the mix, and we're comin' home alright… to play more guitar.
Zakk Wylde - Messiah Rhythm Next up, we're in Doom country. Zakk is known for his outright menacing guitar tones in Black Label Society, and the song "Suicide Messiah" is a perfect example of that. We switch gears to an American High Gain amp that takes exceptionally well to whatever you throw at it – just like Zakk. Pair that with a surgical noise gate, a boost to help sculpt the midrange in front of the amplifier, and our 6-band EQ, and you've got a certified juggernaut.
Zakk Wylde - Counterfeit Chug
Last but not least, we present to you: Counterfeit Chug. Based on the monstrous, ultra-low tuned Black Label Society single "Counterfeit God," we pivot to yet another staple in American High Gain – the treadplate. Swap the boost with a Guitar Muff to push things completely over the edge, and use the 6-band EQ to accentuate the low end, and high mids. This is 100% Berzerker territory.
These 5 official Zakk Wylde presets are available now in the Spark ToneCloud, and free for all Spark users to download and jam with. Try 'em out, and let us know what you think!
A mind-blowing portable powerhouse, Spark MINI delivers innovative, customizable smart guitar playing to go. With multi-dimensional high-quality sound, a treasure trove of amps and effects, all-new Smart Jam, video creation, and Bluetooth® audio streaming, it's the biggest smallest rig ever.
You've never heard a small amp sound like this. Find out more here.