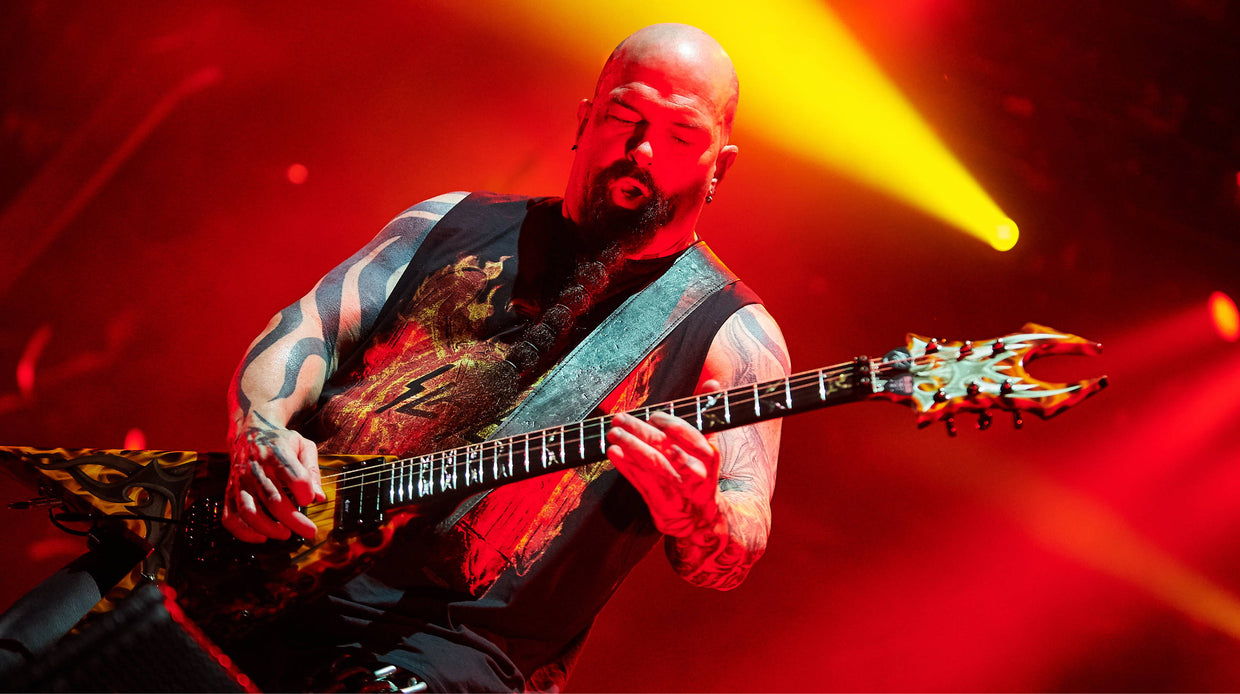 September 27, 2022By Brad Tolinski 0 Comment
The Spookiest Guitar Riffs of All Time
With Halloween right around the corner, it's time to pull out your axe, sharpen your chops and practice some of your favorite spooky guitar songs. To get you in the mood, we put together an unranked list of some of our favorite riffs to play when the kids come by to trick or treat.
But beware, these monster licks are not for the faint hearted. If your fingers bleed a little while learning them, remember it's all in the spirit of the season. Enjoy… and happy haunting!
Inspired by this list and looking to create some spooky riffs of your own? The sonically disruptive OMNYSS gear collection is here to fuel your heaviest, most haunting guitar playing yet. Check it out. 
The Spookiest Guitar Songs for Halloween
Creepiest Guitar Songs from the '70s for Halloween
"Dazed and Confused"
Led Zeppelin (1969)
According to Wikipedia, Robert Plant's original lyrics to Led Zeppelin's "Dazed and Confused" were "Trick or trick, smell my feet, ain't it sweet," until guitarist Jimmy Page nixed the idea (and if you believe that, we have some pictures of the Loch Ness monster to sell you!).
The descending opening theme of "Dazed"—a veritable "stairway to hell"—is certainly among the spookiest riffs of all time. And the song itself is a dark masterpiece of atmosphere and innovative guitar textures, featuring long passages of otherworldly sounds created by Page's novel technique of pulling a violin bow across his guitar strings (see above video).
It has always been said that Jimmy has a special relationship with the dark side, and is reputed to own one of the world's biggest collections of mystical artifacts. The strange magic on this macabre guitar track only reinforces that legend. Ain't it sweet, indeed!
"Bela Lugosi's Dead"
Bauhaus (1979)
This 9-minute tribute to actor Bela Lugosi, who starred in countless vampire films, is generally considered the first goth rock song ever recorded. Pinky swear! Created by English post-punk band Bauhaus, "Bela Lugosi's Dead" is a masterpiece of unearthly pick scrapes and echo-y guitar skronk, and was captured "live in the studio" in a single take.
What makes this one of the great Halloween guitar songs is bloody obvious. It's easy to play (three chromatically descending major chords), you can jam on it for hours, and singing the melody isn't a big problem either. If you can hit one note and memorize the line "Bela Lugosi's dead... undead, undead, undead," you pretty much have it.
"Black Sabbath"
Black Sabbath (1970)
Beginning with the ominous sound of tolling bells, drizzling rain and Tony Iommi's thunderous detuned guitar playing a monstrous G - G - C# tritone lick, it doesn't get any more Halloween than "Black Sabbath" by Black Sabbath.
According to bassist Geezer Butler, the song's sinister lyrics were based on a real story. It seems singer Ozzy Osbourne gave Butler an occult book written in Latin and decorated with numerous pictures of Satan. Butler read the book and placed it on a shelf beside his bed before going to sleep. When he woke up, he claims he saw a large black figure standing at the end of his bed, staring at him. The figure vanished and Butler ran to the shelf where he had placed the book earlier, but the book was gone.
"Black Sabbath" is the granddaddy of heavy metal Halloween guitar songs, and better yet, it's pretty easy to play, making it the king of Halloween guitar tabs, too!
Creepy and Haunting Guitar Songs from the '80s for Halloween
"Bark at the Moon"
Ozzy Osbourne (1983)
Speaking of Ozzy Osbourne, after the vocalist left Black Sabbath to pursue a solo career, he continued to write great songs with occult themes including "Mr. Crowley," "Diary of a Madman" and "Zombie Stomp."
However, we're choosing "Bark at the Moon" to be on our list of great Halloween guitar songs for several reasons. First, it's a song about being a rock and roll werewolf—cool! Next, we are in total awe of guitarist Jake E. Lee's thrashing opening guitar riff and his cosmic phase shifted guitar solo.
But mostly we picked this song for its hilariously dopey video (see above). In it, the ever-lovable Osbourne attempts to "act" as he stumbles around a B-movie laboratory like a toddler on a sugar bender. When he finally transforms into a werewolf, he looks more like a friendly labrador retriever than a blood-sucking monster. In other words, the video is sheer October 31st genius!
"Halloween"
Misfits (1985)
It would be downright blasphemous to exclude The Misfits from this list of creepy guitar songs. These legendary hardcore punk rockers made an entire career from writing songs based around monsters, aliens, undead skeletons, and everything else ripped from 1950's B-movies. So naturally, it would make sense for them to create an ode to the spookiest day of the year.
Like most early '80s hardcore punk, this riff is far from complex. However, the ferocity in Bobby Steele's playing matched with the song's lo-fi production makes you feel like you're listening to a real-life zombie ritual from afar. If there was a Halloween-themed country, this song would be its national anthem and Glenn Danzig would be its divine ruler.
"Don't Fear the Reaper"
Blue Öyster Cult (1983)
This is perhaps the classic Halloween guitar tab. With its haunting opening arpeggios and its dramatic instrumental break, "Don't Fear the Reaper" by Blue Öyster Cult did us all a favor in the '80s by finally replacing "The Monster Mash" as the season's most played jam.
In case you were wondering, the introductory guitar chords were played by guitarist Buck Dharma on beautiful Gibson ES-175, and the stunning minor key solo was done in one take. However, it is rumored that Dracula—who was at the session—was the one that made the brilliant suggestion to add "more cowbell."
Spooky Guitar Songs from the '90s for Halloween
"Heart Shaped Box"
Nirvana (1993)
When you think of Halloween guitar songs, Nirvana isn't usually the first band that springs to mind, but this weird, lop-sided tune is so creepy that it sounds like something you'd hear at a zombie disco.
On the bright side, as Halloween guitar tab, it's quite fun and surprisingly challenging to play. The heavy sound comes from the fact that Kurt Cobain's guitar is tuned a half-step down in drop D. The difficulty is keeping the chords ringing while bending the B on the fourth string up a half step to C, which is the musical signature of the song—and the thing that adds an element of tension/torture to this slab of weirdo grunge.
"Seasons in the Abyss"
Slayer (1990)
Picking the best spooky guitar song by Slayer is like trying to choose the best piece of candy from your Halloween sack. "Silent Scream?" "Live Undead?" "Raining Blood?" "Dead Skin Mask?" There are so many options it's enough to drive you insaaaane!!!
However, when push came to shove (which, if you've ever been to a Slayer show, it usually does), we decided on "Seasons in the Abyss." The opening tooth-ache of a heavy metal riff recalls "Black Sabbath" by Black Sabbath, but Rick Rubin's malevolent production adds a nasty modern edge that almost makes you forget the original.
And then there's the lyric "...a decorated splatter brightens the room." One thing is for sure, we're not gonna let these guys redo our kitchen!
"Freak on a Leash"
Korn (1998)
It doesn't always take much to create a solid Halloween guitar song. Just a few, well placed, dissonant notes can do the trick as expertly demonstrated by Korn's Ibanez-playing wizards, James "Munky" Shaffer and Brian "Head" Welch.
It sorta warms the heart that a tune this spooky was one of the biggest songs of the late 1990's, winning Best Rock Video at MTV's 1999 Video Music Awards. But then again, the Backstreet Boys were also big in 1999, which is also pretty scary.
Spooky Guitar Songs from the 2000's for Halloween
"Momento Mori"
Lamb of God (2020)
Whenever the guitar players for Lamb of God fire up their flangers and start strumming some chords you know something spooky is going to happen. "Momento Mori" from their latest self-titled album is just another in a long list of terrific Halloween guitar songs from one of our favorite metal bands.
In the grand tradition of other excellent nightmare-inducing songs like Metallica's "Enter Sandman," Alice Cooper's "Welcome to My Nightmare" or "Gangnam Style" by Psy, this LOG song is the perfect soundtrack for pumpkin carving or scaring away the kiddies on Mischief Night.
"My World"
Code Orange (2014)
If Alfred Hitchcock was alive and directing a remake of his classic horror film Psycho, his first call would be to license this little ditty by the mighty Code Orange. Between the pummeling chords on low strings played in drop B, and the dissonant stabs on the high strings, listening to this song is like having someone drop an anvil on your foot while getting poked in the eye with a needle. And if that isn't Halloween fun, we don't know what is!
In terms of Halloween guitar songs and Halloween guitar tabs, "My World" is state-of-the-art spooky, and for our money, the opening is definitely worthy of being counted among the Spookiest Guitar Riffs of All Time. Don't take our word, just ask Patrick from SpongeBob SquarePants, a true expert on Halloween guitar riffage (see video above).
Final Thoughts: The Spookiest Guitar Riffs of All Time
So there you have it, our list of the spookiest guitar riffs of all time. Halloween is the perfect time to create some menacing riffs of your own, and with the OMNYSS gear collection powered by BIAS FX 2, you've got the perfect tool for the job. Go beyond heavy with 3 guitar amplifiers and 6 effects crafted for absolute sonic disruption. From crushing rhythms, razor sharp leads, to pristine cleans, plug into OMNYSS and build nightmarish soundscapes of your own. Check it out here.
About the author
Brad Tolinski is perhaps best known for his work as the editor-in-chief of Guitar World Magazine for 25 years. He is also the author of Light and Shade: Conversations with Jimmy Page (Crown); and Play It Loud: An Epic History of the Style, Sound and Revolution of the Electric Guitar (Doubleday), which was the basis for a 2019 guitar-focused exhibition at the Metropolitan Museum of Art in New York City. Most recently he edited the 50th Anniversary Commemorative Issue of CREEM magazine, and his latest book Eruption: Conversations with Eddie Van Halen (Hachette) will be coming out in October 2021.