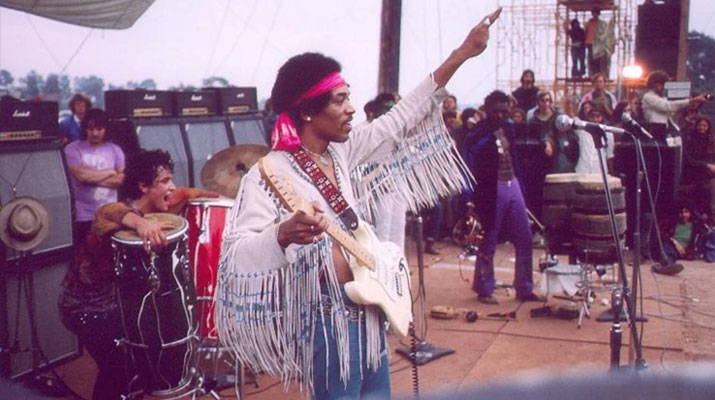 September 27, 2022By tom.gilbert@positivegrid.com BigCommerce 0 Comment
The Greatest Guitarists of All Time
(and the Songs That Prove it)
By Brad Tolinski
How do you become one of the top guitarists of all time? Technique, imagination, innovation and attitude help. A little style is also nice—wearing a pair of dragon pants, playing a lightning bolt guitar or even a well-timed leap in the air will do.
Practice doesn't hurt either. Which is why—after reading this list of best guitarists—you may want to consider Positive Grid's amazing Spark, the smart practice amp and app with over 10,000 tones and a load of other fantastic bells and whistles.
In the meantime, check out our list of the greatest guitar players, maybe watch a few videos for some inspiration, then pull out your axe and get crackin'. Our hope is that one day, when you are on this list, we'll be able to say we knew you when!
What makes Jimi Hendrix a great guitarist?
Music typically evolves at a snail's pace. But what happens when a guitarist suddenly leaps 100 years into the future? Jimi Hendrix did exactly that when he recorded songs like "Purple Haze," "Voodoo Chile" and "Machine Gun." Hendrix tragically died back in 1970, and 50 years later we're still trying to catch up.
A song that shows why Jimi Hendrix is great: "Voodoo Chile," The Jimi Hendrix Experience
What makes Jimmy Page a great guitarist?
Most guitarists look at their instrument they see a hunk of wood and six strings. But when Led Zeppelin's Jimmy Page looks at his sunburst Les Paul he sees misty mountains, the winds of Thor, stairways to heaven and a world of possibilities. Jimmy's gift is his clarity of vision—and the uncanny ability to make it come out of an amplifier.
A song that shows why Jimmy Page is great: "Dazed and Confused," Led Zeppelin
What makes Chuck Berry a great guitarist?
Chuck Berry's "Johnny B. Goode" is one of the most recognizable songs in the history of popular music and "probably the first song ever written about how much money a musician could make by playing the guitar." Everybody knows the famous opening lick and rhythm part. And if you don't, then you're not really a guitarist.
A song that shows why Chuck Berry is great: "Johnny B. Goode"
What makes Eddie Van Halen a great guitarist?
With his homemade axe and innovative playing techniques, Edward Van Halen reinvented the guitar in almost every way imaginable. If that wasn't enough, his earthshaking guitar solo on Michael Jackson's "Beat It" helped propel Jackson's Thriller into becoming one of the best-selling albums of all time. Now beat that!
A song that shows why Eddie Van Halen is great: "Panama," Van Halen
What makes Jeff Beck a great guitarist?
Jeff Beck is the guitarist's guitarist. While he's never had huge hit records or the broad cultural impact of some of the more famous guitarists on this list, his wild imagination, immaculate technique and expressive soloing on songs like "Led Boots," "Going' Down" and "I Ain't Superstitious" is the stuff of legends. Players that have dared to go head-to-head with Jeff on stage know what it's like to eat his dust.Text
A song that shows why Jeff Beck is great: "Led Boots/Hammerhead"
What makes Eric Clapton a great guitarist?
In the 1980's, Eric Clapton shifted gears from being a guitar hero to becoming a first-rate pop musician. But before that he was one of greatest guitarists on the planet, if not the greatest. In bands like the Yardbirds, Bluesbreakers and Cream, the British superstar introduced the blues to the rock world, and stunned them with his explosive extended solos. He can still turn it on when he wants to.
A song that shows why Eric Clapton is great: "Spoonful," Cream
What makes Keith Richards a great guitarist?

Keith Richards' ability to write incredible riffs and booty-shaking rhythm patterns demonstrates you don't have to be a blazing soloist to be on this list of best guitarists. As the composer of immortal Rolling Stone hits like "Jumpin' Jack Flash", "Brown Sugar" and "Honky Tonk Women," Keef will always be the chief.
A song that shows why Keith Richards is great: "Honky Tonk Women," Rolling Stones
What makes Jerry Garcia a great guitarist?

Any time anyone says, "Hey, do you wanna jam?" they should have to pay a royalty to Jerry Garcia's estate. Garcia, if you don't know, was the leader of the Grateful Dead, a group that never met a 30-minute improvisation they didn't like. He single-handedly created the jam band idiom and therefore deserves a place on the list of best guitarists.
A song that shows why Jerry Garcia is great: Jerry jamming with Grateful Dead
What makes Tony Iommi a great guitarist?

With songs like "Iron Man" and "War Pigs," Black Sabbath's Tony Iommi invented heavy metal. Considering he accidentally chopped the tips off of his fingers in an industrial accident, make his assent to being one to the top guitarists of all time even more impressive.
A song that shows why Tony Iommi is great: "War Pigs," Black Sabbath
What makes Les Paul a great guitarist?

You are undoubtedly familiar with the Les Paul guitar, but do you know the man? In addition to being an inventor and master craftsman, Les was a helluva guitar player. Jimmy Page, Jeff Beck and Eddie Van Halen all worshiped the ground he walked on, and if he was good enough for those rascals he should be good enough for you! He and his wife, Mary Ford, had their own television show in the Fifties. The accompanying video will give you just a small taste of their mind-blowing talent.
A song that shows why Les Paul is great: "Alabamy Bound/Darktown Strutters Ball"
What makes David Gilmour a great guitarist?

Bow before the master of space and time. As a member of Pink Floyd, David Gilmour delivered some of the most deliciously cosmic tones and elegantly crafted guitar solos in rock history. Like a rocket ship speeding to the outer reaches of the universe, his notes on albums like Dark Side of the Moon and The Wall soar and climb as they reach for the stars and beyond.
A song that shows why David Gilmour is great: "Comfortably Numb," Pink Floyd
What makes Brian May a great guitarist?

Queen guitarist Brian May studied physics and mathematics at Imperial College London, and his intellectual sophistication is reflected on songs like "Bohemian Rhapsody" and "Killer Queen." Listening to this famous guitarist will make you smarter, but learning a few of his licks will earn you a six-string PhD.
A song that shows why Brian May is great: "Killer Queen," Queen
What makes Duane Allman a great guitarist?

He didn't create the art of slide guitar, but as a member of the Allman Brothers Band he undoubtedly re-invented it. No list of greatest guitarists would be complete with Duane Allman, whose extraordinary work can be heard best on the Allman's magnificent At Fillmore East and Eric Clapton's immortal Layla album. The shocking part is that he accomplished all of this before his life was cut short at the tender young age of 24.
A song that shows why Duane Allman is great: "Statesboro Blues," Allman Brothers Band
What makes Randy Rhoads a great guitarist?

Like Jimi Hendrix and Duane Allman, Ozzy Osbourne guitarist Randy Rhoads died young, but his classically influenced soloing left an indelible mark on thousands of metal players who still consider him to be one of the top guitarists of all time. His 1980 masterpiece "Crazy Train" is easily one of the most played riffs of all time. Unfortunately, performing it may get you ejected from your local music store by annoyed sales personnel who've heard it one too many times.
A song that shows why Randy Rhoads is great: "Crazy Train," Ozzy Osbourne
What makes Stevie Ray Vaughan a great guitarist?

When Stevie Ray Vaughan released Texas Flood in 1983, the blues was all but dead. But thanks to his incredible tone, virtuoso chops and great singing voice, the famous guitarist almost single-handedly revived interest in the genre and kept it alive. For everyone who wants to learn how to play blues guitar, your first step is to understand that Stevie remains on top of the list of best guitarists to this day.
A song that shows why Stevie Ray Vaughan is great: "Texas Flood," Stevie Ray Vaughan & Double Trouble
What makes Dimebag Darrell a great guitarist?

Who is the greatest guitarist of all time? For many hard rock players, Pantera's ruby-bearded Dimebag Darrell will always be king. One listen to "Domination" or "Walk" and you'll see why. His guitar playing is like a vicious punch to the gut...but in the best possible way.
A song that shows why Dimebag Darrell is great: "Walk," Pantera
What makes Steve Vai a great guitarist?

When it comes to crowning the best guitar player, Steve Vai tops the list for many. Of all the shredders from the 1980's, Vai has remained the most progressive and interesting. The three-time Grammy winner packs more interesting licks in one song than most guitarists manage in a lifetime. The frightening thing is, he keeps getting better. (He's also been known to keep a Spark around his studio!)
A song that shows why Steve Vai is great: "For the Love of God"
What makes Chet Atkins a great guitarist?

They call him "Mr. Guitar" for a reason. In addition to playing on literally hundreds of sessions, Chet Atkins, was also a legendary producer who helped create the modern Nashville Sound. When asked to name the 10 greatest guitarists of the twentieth century, he placed himself on the list—and he was right to do so.
A song that shows why Chet Atkins is great: "Mr. Sandman"
What makes Kirk Hammett a great guitarist?

Who doesn't like freakin' Metallica? No one. And a big part of their lasting appeal is Kirk Hammett and his ridiculously memorable guitar solos. They stick in your brain like the nasty little earworms, and will probably remain there until the grim reaper takes you away—which is pretty damn heavy metal when you think about it.
A song that shows why Kirk Hammett is great: "Enter Sandman," Metallica
What makes Jack White a great guitarist?

Yes, the guitar is still alive and we believe it's living somewhere in Jack White's recording studio. One of the coolest players of the last 20 years, Jack has made this list of best guitarists by showing up and being different. The boy creates gnarly guitar sounds by the truckload, and he can dump them on our Spotify playlist anytime.
A song that shows why Jack White is great: "I'm Shakin'"
So who is the best guitarist of all time? Ultimately that's a subjective question, but we think this list offers at least a handful of worthy candidates. Most of the above players are worth investigating and emulating, and if you really want to go for the gusto, you can dial in the sound of any of these famous guitarists with a single practice amp—a cool gizmo we call Spark, the smart amp and app that can jam along with you using intelligent technology
Want to check it out for yourself? Order Spark here.
---
Brad Tolinski is perhaps best known for his work as the editor-in-chief of Guitar World Magazine for 25 years. He is also the author of Light and Shade: Conversations with Jimmy Page (Crown); and Play It Loud: An Epic History of the Style, Sound and Revolution of the Electric Guitar (Doubleday), which was the basis for a 2019 guitar-focused exhibition at the Metropolitan Museum of Art in New York City. Most recently he edited the 50th Anniversary Commemorative Issue of CREEM magazine, and his latest book Eruption: Conversations with Eddie Van Halen (Hachette) will be coming out in October 2021.