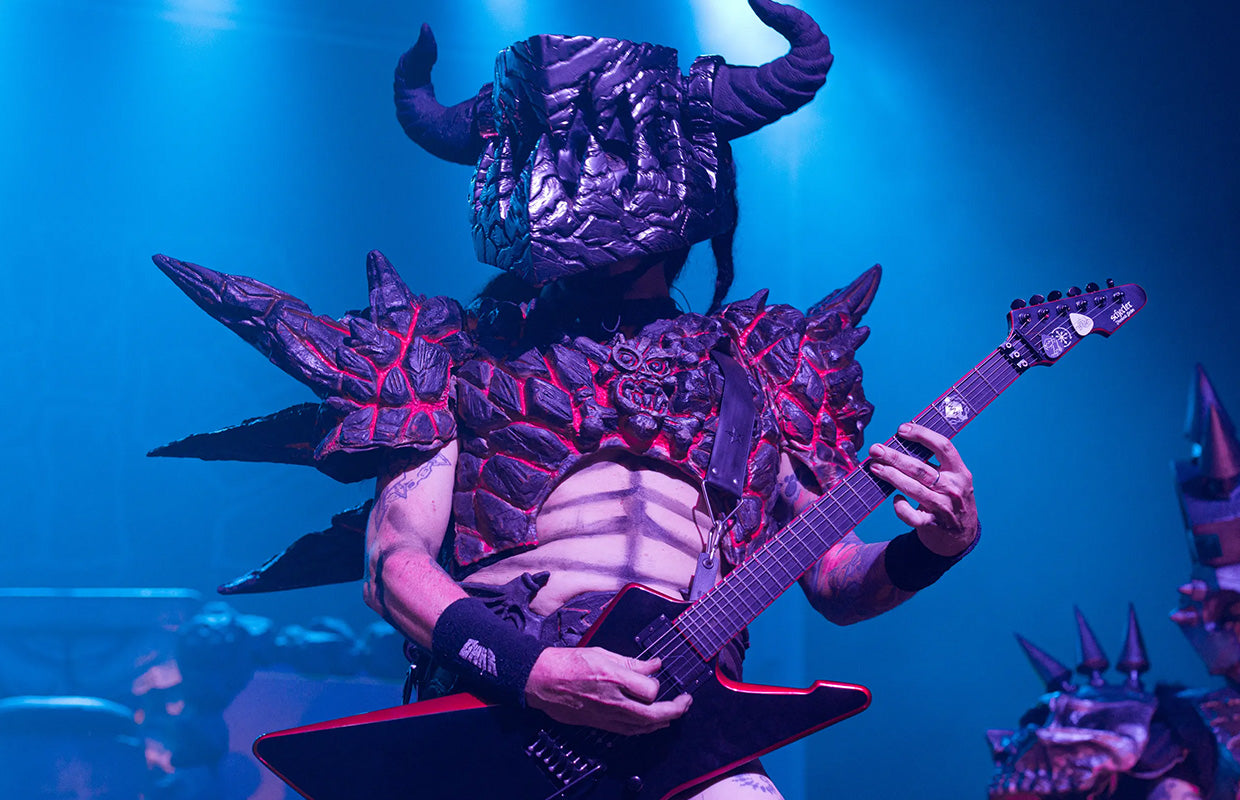 September 27, 2022By Vince Bellino 0 Comment
The Scariest Bands of All Time
Whether you're a hardened horror hound or a certified scaredy-cat, Halloween is the time of year to shamelessly indulge in all manners of fears and frights. Nothing sets the mood better than a festive playlist, so sink your fangs into this unranked list of the scariest bands of all time.
The Scariest Bands of All Time
Slayer has never been afraid to bring up the darkest acts of human violence. Whether describing the atrocities of the Nazi regime during World War II, investigating the mind of a serial killer, or exploring any other shockingly messed up topic, Slayer's lyrics and demented imagery make them a particularly dark band.
They've experimented with different varieties of their sound and inspired plenty of other terrifying bands over the years, but Slayer's status as a scary band has never changed.
Cannibal Corpse is the musical equivalent of a B-movie horror film. Since their bloody inception on 1990's Eaten Back to Life, the death metal legends have remained at the top of their genre for their over-the-top lyrics as much as their musicianship.
Their album sales and tours have been banned in numerous countries throughout the years, making Cannibal Corpse not only one of the scariest bands of all time, but one of the most controversial. The Tampa-based death metal legends still worship at the altar of zombies and slashers, releasing Violence Unimagined in 2021.
Richmond, VA space freaks GWAR have been metal's most over-the-top band since 1984. Donning elaborate costumes and dousing their audiences in blood, pus and unknown gunk, the band are known as much for their live spirit as their metal-punk stylings. After larger-than-life frontman Oderus Urungus (aka Dave Brockie) tragically left the mortal world in 2014, longtime GWAR member Blöthar the Berserker stepped up to the plate and made sure that they remain one of the scariest bands of all time.
Speaking of GWAR, frequent Positive Grid contributor Brad Tolinski caught up with guitarists Balsac the Jaws of Death and Pustulus Maximus for this exclusive interview. No word on if they're stopping by the company Halloween party this year, but there's always a seat at the table for our alien overlords.
Scariness isn't just determined by gory lyrics and bloody costumes. Sometimes the spookiness is just a vibe in the music or a feeling in the guitar tone; such is the case with Black Sabbath. As the godfather of heavy metal, Tony Iommi used blues-based pentatonic and spooky guitar riffs to conjure up images of black masses and eerie forests.
On-and-off frontman Ozzy Osbourne helped rewrite the book on shock rock tactics, known as much for his bat-biting antics as his lyrics. Black Sabbath might seem tame by today's standards, but the heavy metal legends were absolute trailblazers when they appeared in 1970.
If your idea of a perfect Halloween night includes lots and lots of '80s slasher movies, then this next band is right up your alley. City Hunter is the brainchild of Denver underground music legend James Trejo, who sought out to create one of hardcore's scariest bands (both musically and thematically). Their sole album is told from the perspective of a ski-mask-wearing, knife-wielding maniac who roams the streets looking for new victims, and is musically inspired by the chilling riffs of early hardcore pioneers United Mutations. Throw in a logo and album art by graphic design genius Mark McCoy, and you get an album that is perfect for channeling your inner Michael Myers.
The shock of Venice, CA-based crossover band Suicidal Tendencies was instantly felt when they hit the scene in the early '80s. The band's image and lyrics drew heavily from the gang-filled environment that they called home, which caused their shows to be breeding grounds for violence. Concerts often ended early during ST's initial run due to brawl-induced police shutdowns, and in 1984 the group was outright banned from playing in Los Angeles.
These days, Suicidal Tendencies lead singer Mike Muir encourages a much more family-friendly environment at his shows. However, there was a time when one of the scariest questions you could ask a fellow punk fan was "do you wanna see Suicidal Tendencies with me?"
Mayhem are innovators of the Norwegian black metal sound, characterized by its buzzing guitar tone, screeching vocals and lo-fi production quality. They've amassed quite the reputation over nearly 40 years (we'll let you do your own research there) and were portrayed in Vice's controversial Lords of Chaos film. That said, their status as one of music's darkest bands is well-earned. Even today, the band's live show is ritualistic in intensity, led by charismatic frontman Attila Csihar.
The Dillinger Escape Plan
Throughout their 20-year run, The Dillinger Escape Plan's live shows were notorious for being as chaotic as their music. It was not uncommon for the band to lob their gear off the stage, catapult themselves into the crowd, or even start on-stage fires. Sure, these guys didn't drape themselves with spooky imagery like most of the other bands on this list, but the threat of getting hit in the face with a gig case is pretty damn scary if you ask us.
Samhain is sadly the least celebrated of Glenn Danzig's bands, cursed as the middle child between the Misfits and Danzig's eponymous endeavor. Still, the band is his darkest project, embracing deathrock—and later heavy metal—as opposed to the more lighthearted horror of the Misfits. Frequently returning to topics such as paganism, the occult and the horrors of life, Samhain is the perfect band to listen to as Samhain—or as we know it today, Halloween—approaches.
What happens when animals take control of the Earth back from humans? That's exactly the question that Cattle Decapitation asks, earning the support of vegetarians and animal rights activists while letting the meat eaters squirm with song titles like "Human Jerky," "I Eat Your Skin" and "Cannibalistic Invasivorism." The San Diego group have embraced many stylistic changes over the years, but their core of blood, guts and animal rights remains intact.
The late Joey Jordison is best known for his time bashing the skins in masked nü metal luminaries Slipknot, but he also served as the guitarist in horror punk crew Murderdolls. Featuring Jordison and vocalist Wednesday 13, Murderdolls combined the best of hardcore punk and shock rock with a tongue-in-cheek presentation. The band's lyrics about grave robbing, necrophilia, zombies and scream queens are both frightening and humorous, something that few artists in this genre can pull off.
Speaking of Joey Jordison, did you really think that we'd make a list of the scariest bands of all time and not include Slipknot?
This infamous group of masked Iowans quickly rose to fame through their blend of extreme metal and hard rock, with some unconventional percussion thrown in for good measure. Their stage outfits alone scream horror movie worship, down to a psychotic clown that bangs on an empty keg. If that doesn't do it for you, look up the lyrics to their earlier material and get ready for a real fright.
Final Thoughts: The Scariest Bands of All Time
Whether you prefer to jam with a traditional guitar or something a little more unique, you can't go wrong with a practice amp that fuels your creativity as you play. A powerhouse 40 Watt combo, Spark is a smart amp and app that jams along with you using Intelligent Technology, with backing tracks available for any style you play. Including over 10,000 tones (and counting!) on the Positive Grid ToneCloud, you'll never run out of inspiration. Plus, you can use Spark as your USB audio interface for easy home recording and track your ideas with the included PreSonus Studio One Prime recording software. Find out more here.
---
Vince Bellino is a "professional" heavy metal nerd. His work has appeared in Decibel, The Daily Dot, Philadelphia Weekly and more.