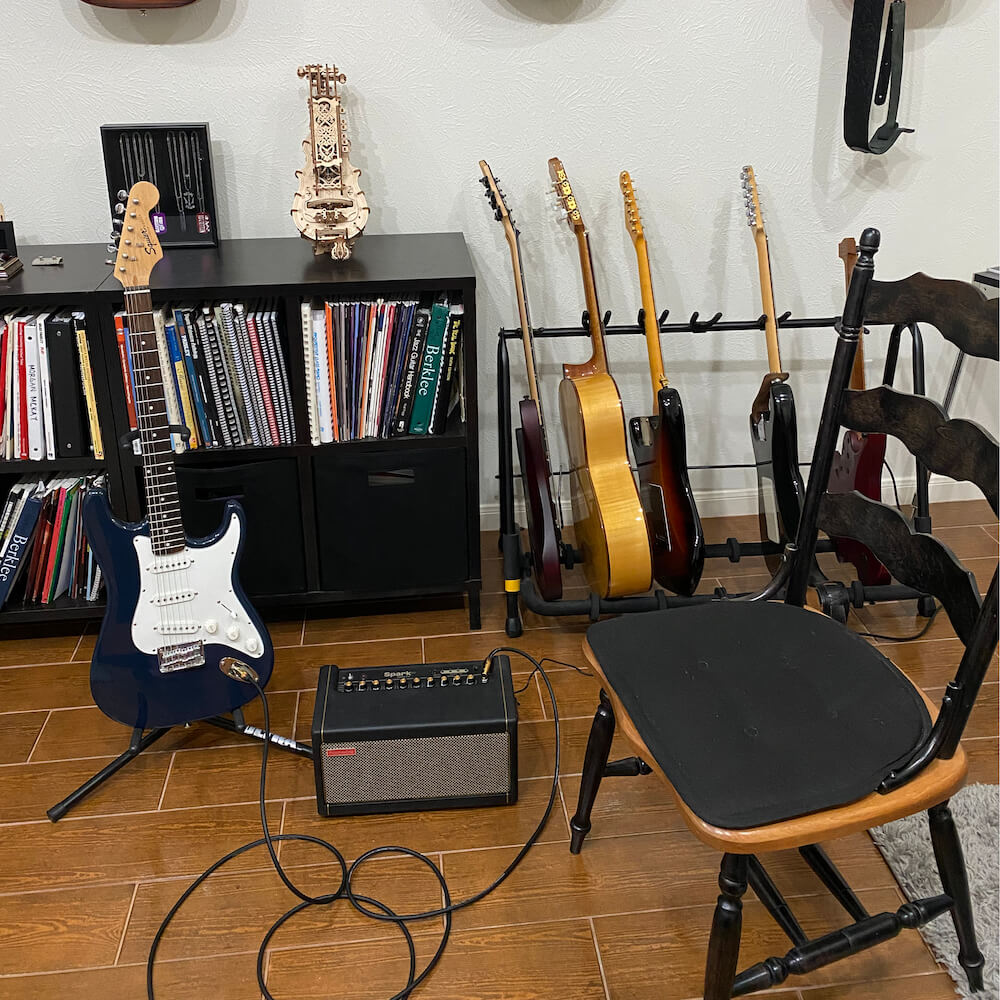 August 08, 2023By Joshua Fernandez 0 Comment
Navigating the world of guitar gear can be both wonderful and complicated. With so many options out there, finding the perfect fit can feel like an overwhelming task. But fear not! We understand the struggle of searching for that ideal bang-for-your-buck gem. Whether you're a guitar teacher seeking the ultimate teaching tool, a student yearning for a gear piece to elevate your playing, or even a seasoned touring musician looking to expand your collection, Positive Grid's line of
Spark guitar amps
has got you covered. But hey, don't just take our word for it; let's dive into some real testimonials from teachers in the field who have experienced the magic of
Spark
firsthand.
Spark is Versatile & Portable
"Spark MINI is the most versatile guitar amplifier I've ever used. It's perfect for practicing on the move. I wish there was something like the Spark MINI available when I began learning guitar, it's a total game changer" – Mark Ellwood, Guitar School UK
Mark is talking about Spark MINI – Positive Grid's answer to the portable smart guitar amp and Bluetooth speaker. Don't be fooled by its miniature size though, this thing really packs a punch. Powered by a 10W speaker, Spark MINI features room-filling sound and an all-day battery life that will keep you jamming for longer. Looking for something even more portable? Check out Spark GO. 
Spark is Engaging
"Spark is the best product on the market for music students by a large margin and by almost any metric. The amp is perfect because it contains many practice features that help them work on their timing, playing to changes, and playing along to songs." – Jim Maguire, Private Guitar Teacher
Ever wished for an amp that truly engages you as a player? Spark amps are packed with AI-powered smart features that will help you grow as a musician. With seamless integration with the Spark app, you'll have access to features like Smart Jam - a virtual band that jams along with your every move – all in real-time. Plus, say goodbye to struggling with chords - Auto Chords will have you mastering any song you desire in no time.
Spark Sounds Amazing
"It's so valuable in that aspect because it's a quality sounding speaker with a wide dynamic range where all parts and instruments can be heard. This is extremely important in a learning environment as compared to just playing through a phone or computer." – Alex Williams, Direction of Education at the Allegra Music Academy
Let's be honest here, sounding good inspires you to play better. There's absolutely nothing like plugging into your favorite amp and hearing your guitar like it was meant to be heard. All Spark amps feature boundary-pushing sound design that not only makes your guitar sing, but also great for jamming to any genre of music. 
Spark Defines Your Sound
"Spark is the perfect amp for many students. It allows each student to easily find their own sound." – Sam Farkas, Green Hills Guitar Studio
When it comes to guitar tone, it's all about finding your own unique sound – no right or wrong, just what resonates with you. The Spark app opens up a world of full tone customization, offering an extensive library of amps and effects to explore. You'll also have access to over 50,000 custom tones crafted by guitarists worldwide, providing endless inspiration to help you define the perfect sound for your jam sessions.
Spark Makes Practicing Guitar Fun
"​​The Positive Grid Spark makes practicing fun and engaging anywhere you go! The app makes it easy to achieve any tone, jam along to jamtracks, and make practicing sound as good as if you were in a professional music studio anywhere, anytime!" –Nicholas Veinoglou, The Donut Doctor Music, Inc.
Practicing anything for a prolonged period can be a real buzzkill. Packed with features that make practicing feel more like creating, this amp will have you forgetting it's practice time at all. 
There you have it! No matter your role - be it a guitar teacher inspiring future guitar heroes or an aspiring student on a musical journey - the Spark amp is your ultimate ally. Unlock your full potential, explore your unique sound, and make practicing an exhilarating experience.